Hey everyone! Welcome back to my little world of bass.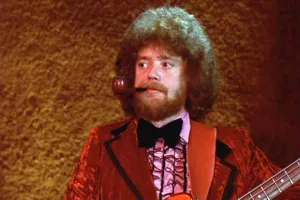 I wanted to take some time and reflect on my early influences on the electric bass.  I guess a better title for this post would be "If it Grooves Like A Duck" !  I mean, we all knew that Ducks were cool but did you know they were pretty groovy too?
Let's get started.
If you haven't guessed, I'm talking about Donald "Duck" Dunn.
Donald "Duck" Dunn who left us on May 12, 2013, was an American bass guitarist, session musician, record producer, and songwriter. Dunn was notable for his 1960s recordings with Booker T. & the M.G.'s and as a session bassist for Stax Records. At Stax, Dunn played on thousands of records, including hits by Otis Redding, Sam & Dave, Rufus Thomas, Carla Thomas, William Bell, Eddie Floyd, Johnnie Taylor, Albert King, Bill Withers, Elvis Presley and many others. In 1992, he was inducted in the Rock and Roll Hall of Fame as a member of Booker T. & the M.G.'s.
Dunn was born in Memphis, Tennessee. His father nicknamed him "Duck" while watching Disney cartoons with him one day. Dunn grew up playing sports and riding his bike with another future professional musician, Steve Cropper.
Dunn was known for his legendary bass lines that did one thing "Groove"
Legendary hits such as;
"Green Onions" - Booker T. & the M.G.'s
"Respect" - Otis Redding
"Hold On I'm Comin" - Sam & Dave 
"Stop Draggin' My Heart Around" - Stevie Nicks & Tom Petty
Dunn played behind Dylan, George Harrison, Eric Clapton, Tom Petty, Stevie Wonder, Sinead O'Connor, Eddie Vedder and Neil Young at Dylan's 30th Anniversary concert at Madison Square Garden, Young would later recruit Dunn and the rest of the M.G's as his touring band. 
Plus, who can forget The Blues Brothers! (My personal favorite movie of all time!) Dunn had one line in the movie where he described the Blues Brothers Band "We had a band powerful enough to turn goat piss into gasoline!" 
True indeed Duck.
I still practice Ducks bass lines from the Sam & Dave Records as well as The Blues Brothers.
If you want to really learn how to "Groove Like A Duck" start with Donald "Duck" Dunn! 
See you in the practice room.